EZproxy Link Generator
Want to create a link to a UBC Library licensed resource for off-campus use? Use our EZproxy Link Generator!
How do I use the EZproxy Link Generator?
Paste the URL into the box below and click "create." This will add the EZproxy prefix to your URL, therefore triggering the system to authenticate users and ensuring the link will work off-campus.
source: https://wiki.ubc.ca/Library:EZproxy/Tools/LinkGenerator/Intro

The resulting URL can also be shared with your UBC colleagues and students and embedded into other content, like Canvas and Research Guides.
For best results, we recommend using a persistent URL, or PURL, with the link generator. A PURL is a link to a specific web page that remains stable over time. Many people don't know that some urls are "session-based" and only work for the duration of your search session. If you try to access a session-based url after you log-off, navigate away from the page and/or several hours later you will get an error message instead of the page you were expecting. To learn more, see our guide to Finding Persistent URLs.
If you do not wish to use the link generator tool above, you can paste the following prefix directly in front of your PURL (i.e. no spaces between the prefix and the PURL)
https://ezproxy.library.ubc.ca/login?url=

source: https://wiki.ubc.ca/Library:EZproxy/Tools/LinkGenerator/Use
source: https://wiki.ubc.ca/Library:EZproxy/Tools/LinkGenerator
The Link Generator and Bookmarklet provide enhanced support and easier access to e-resources for off-campus users. Other tools may be available, but are not supported by UBC Library. They may also not be as comprehensive in scope and cover all of UBC Library's resources. Some of these options include:
Zotero
Those who use Zotero may be happy to learn that the popular citation management tool also provides some support for EZproxy to users of the Firefox extension. To configure Zotero to work with EZproxy, users must add the proxy address under the Proxies tab in Preferences (for more information, see the relevant Zotero documentation).
Make sure to check off both the 'Enable proxy redirection' and 'Automatically recognize proxied resources' options. To add EZproxy access for UBC Library, click on the plus sign, check 'Multi-site' then enter the following into the scheme field:
http://%h.ezproxy.library.ubc.ca/%p

Please note that only resources that the user has previously visited while proxied will be recognized by the Zotero proxy tool (resulting in automatic access or a redirection to UBC Library's EZproxy login page). This is because the tool learns from a user's activity - therefore, the more resources you visit while proxied, the more resources Zotero will save and remember for the future.
Mendeley
The Mendeley website also offers some support for EZproxy access for searches in its crowd-sourced research catalog. To configure EZproxy access in Mendeley for UBC Library, log into the site, click on the Papers tab, and then search for a paper or click on any of those listed as popular. On the paper's overview page, click the 'Find this paper at:' button and select 'Edit library access links.'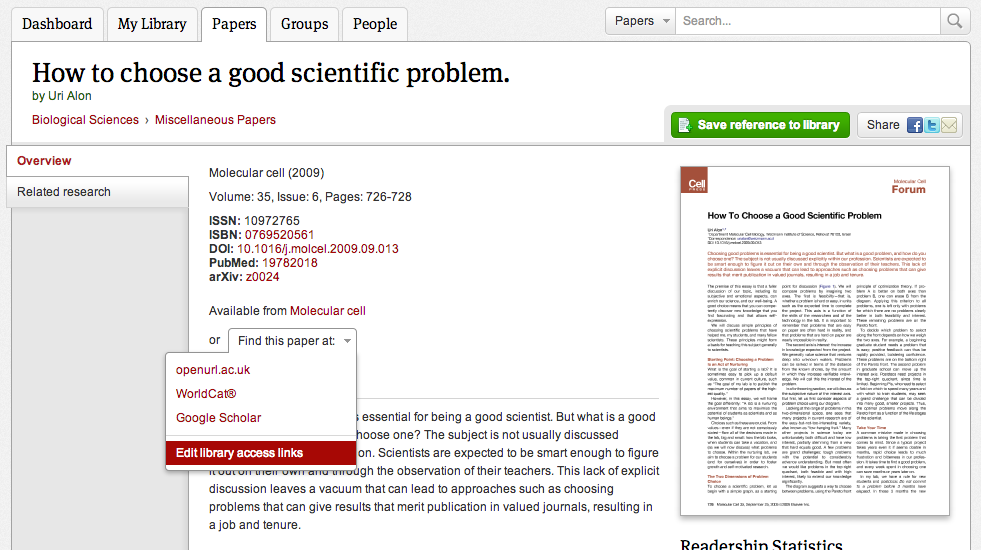 Choose 'Add library manually,' and then enter UBC Library for name and the following for base URL:
http://ezproxy.library.ubc.ca/login?url=http://gw2jh3xr2c.search.serialssolutions.com/

From now on, clicking on 'Find this paper at' will give you the option of searching in UBC Library and should connect you directly to our holdings.
Papers App
Papers, a citation management application that can sync up your collection of references and PDFs across your desktop, laptop, and iPhone, iPad, or iPod touch, can also be configured so that electronic resources are automatically prepended with UBC Library's EZproxy prefix. Please note that Papers is not supported by UBC Library.
To configure EZproxy for iPhones, iPads, or iPods, you must first manually add the following prefix to the Papers application under "Proxy Settings" in the Settings menu:
http://ezproxy.library.ubc.ca/login?url=%@

Make sure to toggle the "Use EZProxy" option to "On."
For desktop or laptop usage, you need only to select the University of British Columbia as your Library Proxy from a drop-down list of universities—how you do this will depend on the OS (Windows or Mac) you are using. For Windows, the option is available under Access -> Options. For Mac, go to Preferences -> Access. Please see below for an example of how to add UBC Library to Papers for Mac:
In the application menu, navigate to Papers and select "Preferences..."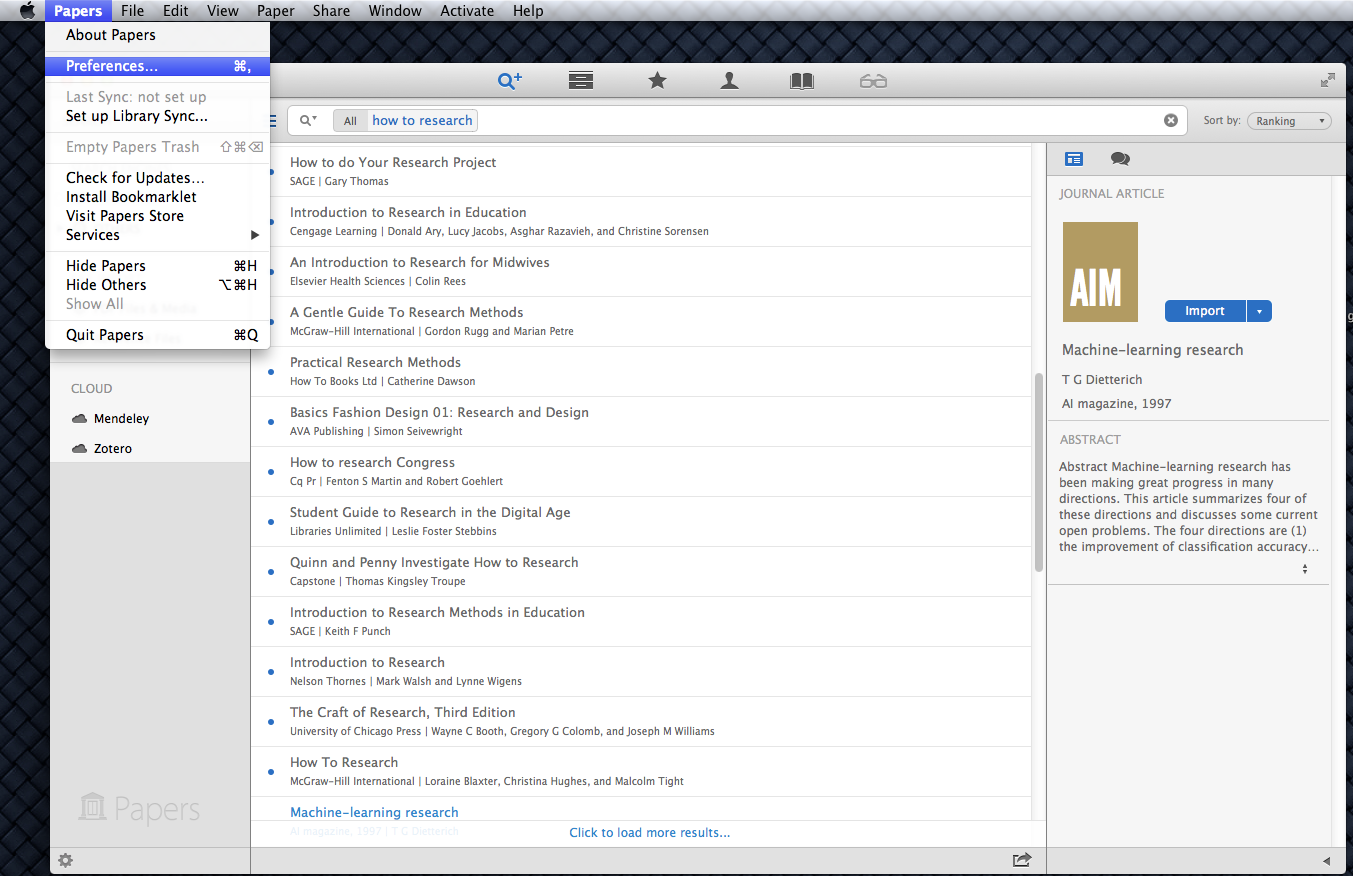 Click on the "Access" tab. If you have not yet configured EZproxy, you should see the message "No proxy selected" in the "Use Library Proxy" field.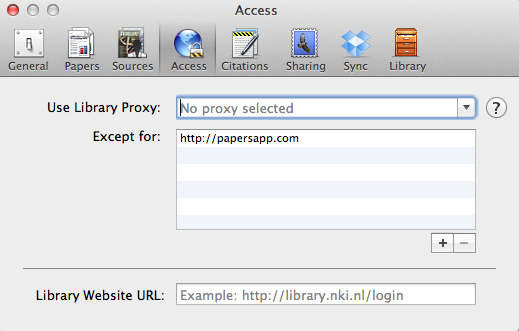 Click on the drop-down menu and scroll through the options until you find "University of British Columbia."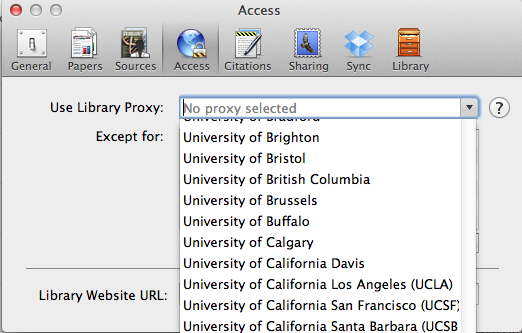 Select and close the menu. (We recommend leaving the Library website URL field empty)